W Motorhome Sales North America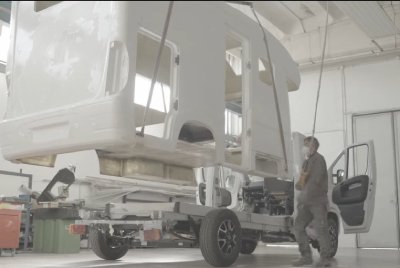 W Motorhome Sales North America, doing business as Wingamm USA, is the exclusive North American distribution partner of Wingamm Group srl of Italy, the leading manufacturer of luxury compact RVs in Europe. Wingamm Group has selected Wingamm USA to bring Europe's most sought after and innovative motorhomes to the US market to meet the demand of US buyers for more compact and luxurious motorhomes. Wingamm USA expects to begin customer deliveries later this year of Wingamm Group's most compact model, the Oasi 540.1. Additional Wingamm models are expected to arrive next year.
"My vision has always been to bring my family owned brand of compact European motorhomes to America. We are currently sold in 15 countries throughout Europe and Asia and the US was always the next step on our roadmap. Our plan came together when I met Tony Diamond and the [Wingamm USA] team about three years ago at our headquarters in Verona, Italy. Tony was very enthusiastic about the changing trends in how Americans want to live and travel and the gap in the compact RV market that Wingamm could fill. It has taken persistence and innovation from our team of amazing engineers and consultants in both Italy and the US to create a Wingamm Oasi 540 for the US market and now it is officially coming to America," said Lorena Turri, CEO of Wingamm Group.
Since the initial announcement that Wingamm's Oasi 540 would be coming to America, Wingamm USA has been inundated with phone calls and emails from interested buyers. The interest list has grown to over 10,000 buyers and counting. Additionally, over 30 RV dealers, including some of America's largest have been in contact with Wingamm USA seeking to become a Wingamm dealer.

When we first met with Lorena and her team, we were in development on a tech enabled on-demand RV rental concept called Squirrel – think Lime or Bird Scooter but with RV's. We had scoured the globe, evaluating every RV model in the US, Germany, France, UK and Italy, looking for the most compact, luxurious and technologically advanced motorhome in the world. As soon as we saw the Wingamm Oasi 540, we knew we had found it. From there, the partnership evolved with Lorena and we became the distributor for Wingamm in North America. Our go to market strategy is for Wingamm's line of motorhomes to be displayed in desirable malls across America alongside other innovative consumer brands like Apple, Tesla, and Peleton.
Wingamm has captured the attention of motorhome consumers. The most popular YouTube videos reviewing our Oasi 540 and Oasi 610 motorhomes have more views than review videos of any other Class B motorhome by a significant margin. Furthermore, the Wingamm Oasi 540 model we are launching in the U.S. this year ranks 4th among the leading Class B motorhome models in Google searches per month, behind only the top-selling motorhomes of industry giants Winnebago and Airstream.
We at Wingamm USA are proud to partner with Wingamm Group in bringing a new dimension of travel to North America!
W Motorhome Sales North America d/b/a Wingamm USA
606 Post Rd E, #536
Westport, CT 06880